The Pakistani actress who last week tweeted a quote falsely attributed to Adolf Hitler about exterminating Jews agreed to an interview with TheDarkWire.com, but would only do so for payment.
"I would have killed all the Jews of the world…but kept some to show the world why I killed them" the tweet to over 1 million followers read. It was later deleted, but she continues to post about her solidarity with the "Free Palestine" movement amid an ongoing conflict between Israel and Hamas.
Asked why Veena Malik deleted the tweet and for a statement, her public relations team responded, telling this reporter via email that she could be available for a Zoom interview but to "let us know your budget."
Later asked to confirm that the interview would only happen if it's paid, Malik's team responded via WhatsApp, saying that it would only make sense given her fame.
"Hello Hope you [sic] doing well," they wrote. "As you know your [sic] belongs to [sic] journalist network Why should a [sic] Asian High profile celebrity give you [sic] interview or give comment regarding any tweet to [sic] for free Doesn't it's [sic] make sense. That's obvious if you [sic] looking forward for [sic] interview do let us know your budget. Best Regards."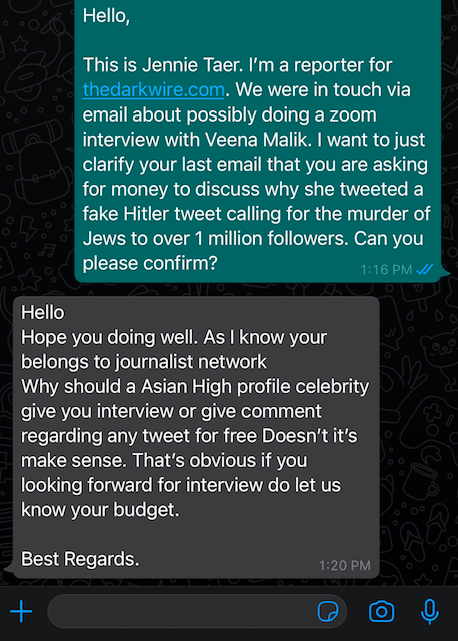 Malik's tweet garnered condemnation on Twitter with many accusing her of antisemitism. This reporter sent Malik multiple Direct Messages to her Twitter account, but she has still yet to apologize or comment.
Twitter didn't immediately respond to this reporter's request for comment. The story will be updated if and when the social media site responds to our email request.
You can follow Jennie Taer on Twitter @JennieSTaer