The European Union's highest court has upheld Belgium's bans on slaughtering animals without first stunning them, an important process of kosher meat production. Judaism and Islam practices require animals to be conscious when their necks are slit to be considered kosher or halal.
The ruling was announced on Thursday, dismissing arguments by Jewish and Muslim groups that the ban is infringing upon their religious freedoms.
The ban could lead to a wave of new ruling against Jewish ritual slaughter throughout the EU.
Israel's ambassador to Belgium, Emmanuel Nachson, said in a statement reported by the Jewish Exponent, that the ruling is "catastrophic and a blow to Jewish life in Europe."
Yohan Benizri, president of the Belgian Jewish CCOJB group, said "Europe no longer protects religious minorities."
Rabbi Menachem Margolin, the head of the Brussels-based European Jewish Association, said in response to the ruling, "Judaism will not change Halakhic requirements as per the demands of the EU Court of Justice."
However, in response to the backlash of the ban, San Diego State University's College Republicans chapter said in a since-deleted tweet, "Circumcision of newborns should be illegal, is that also making it impossible for Jews to live in America?"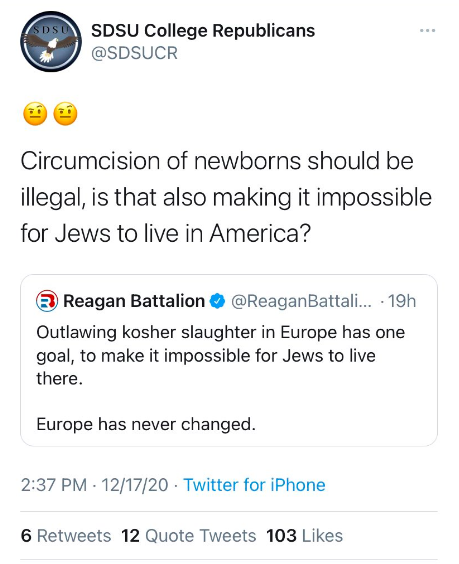 Darkwire reporter Jennie Taer responded to the CR chapter saying, "Delete your account."
SDSU CR then posted the following message: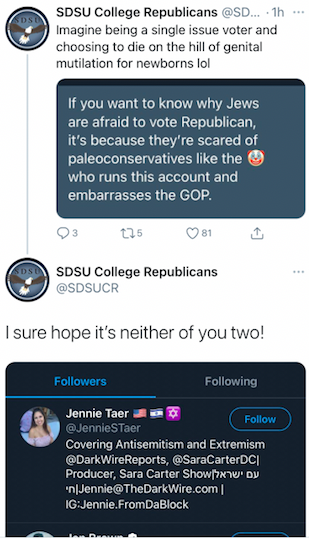 The Arizona CR chapter also called out SDSU CR and urged the group to "reevaluate their comments and apologize."
When asked if SDSU CR would like to contribute a statement to this article, they responded, "Sorry your boss made you write this."
Jennie Taer contributed to this report.