North Shore Hebrew Academy in Great Neck, New York's website was hacked on Monday with Nazi images and antisemitic slurs and a list of dozens of student and faculty credit card and address information was also leaked.
"Thanks for helping us get credit score information of almost 50% of the population of Great Neck. Wir mussen di juden ausrotten (We must exterminate the Jews)" read one message to students from the hackers.
"I SAW THAT YOU READ THIS YOU'RE NEXT I KNOW WHERE YOU LIVE HEIL HITLER #OPISRAEL," read another message to students.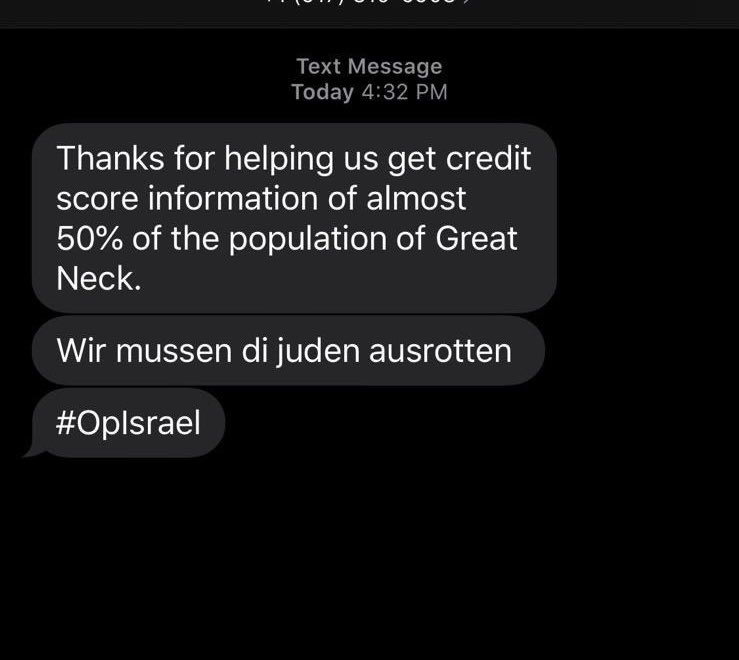 Nassau County Police confirmed to this reporter that there's an ongoing investigation into the incident.
The pictures and videos of the hacking were first posted by watchdog group StopAntisemitism.org on Twitter. The posts showed Nazi videos, songs, images, and antisemitic slurs had taken over the school's website.
One video posted by the hackers showed a "trip to Auschwitz," telling students "it is shower time, little Jews die."
The school didn't respond to this reporter's request for comment.
Liora Rez, Executive Director of StopAntisemitism.org told TheDarkWire.com, "With antisemitism skyrocketing in America, we are horrified Jewish teens were so grotesquely targeted while attempting to access their school's website."
She added, "Many of these students are descendants of Holocaust survivors; for them to witness such horrific imagery and messaging should anger all of us."
Great Neck Mayor Pedram Brahl condemned the incident in a statement to TheDarkWire.com.
"Anti-Semitism is the litmus test of racism and bigotry and it has raised its ugly face yet again, this time in Great Neck," Brahl said. "There is no reason for anti-Semitism but ignorance."
He added, "We must be educated and educate others In order to fight Racism of any form. The proper authorities have been notified and are working on dealing with this situation."