As Palestinian terrorists were firing hundreds of rockets into the Jewish State of Israel Tuesday, Pakistani actress Veena Malik seized the opportunity to tweet a quote lauding the genocide of the Jewish people that she attributed to Adolf Hitler.
The quote read, "I would have killed all the Jews of the world…but kept some to show the world why I killed them" However, the quote appears to be misattributed.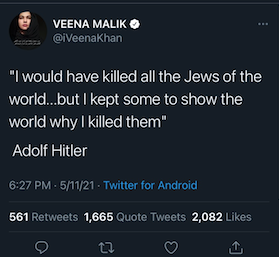 After facing backlash for the tweet, Malik later deleted the post as well as a number of other tweets on her account.
Malik didn't respond to this reporter's requests for comment via Twitter Direct Message and email.
You can follow Jennie Taer on Twitter @JennieSTaer