Michigan Rep. Rhasida Tlaib, D, commemorated the International Day of Solidarity with the Palestinian People on Sunday by retweeting an illustration posted by Palestinian-American activist Rasha Mubarak. 
The day was the original date in 1947 when the United Nations voted to section off Israel into one Jewish and one Arab state, marking the end of British-mandate Palestine.
The illustration, shared by Tlaib, included a phrase that has been associated with calls to wipe Israel off the map, "From the river to the sea, Palestine will be free."
This phrase originates from a song that advocates for Israel's violent destruction. It has become a popular slogan for pro-Palestinian activists.
Tlaib, a Palestinian-American who has expressed vocal support for the Boycott, Divestment, Sanctions (BDS) movement and a one-state solution, was criticized for the retweet by pro-Israel groups.
"@RashidaTlaib is not just opposed to Israeli control of the West Bank — this slogan means she sees the entire State of Israel as illegitimate and wants it eliminated," Democratic Majority for Israel said in a tweet. "That's an immoral and reprehensible position."
Tlaib deleted the tweet from her Twitter after the backlash.
CNN contributor Peter Beinart defended Tlaib on Twitter saying, "@RashidaTlaib supports 1 state where Jews + Palestinians live equally, under the same law. Why is that less moral that the current 1 state: Where millions of Palestinians lack citizenship, due process, free movement + the right to vote for the govt that controls their lives?"
He later added, "I get why many Jews find slogan 'Palestine from River to Sea' frightening. Some have used it to disregard Jewish rights (1st Hamas charter, for instance). But @RashidaTlaib has been clear that Jews + Palestinians deserve equality. Suggesting otherwise is a smear."
Beinart was criticized for defending Tlaib's use of the phrase.
"It's not just the literal words. There's a long history behind them," a Twitter user replied to Beinart.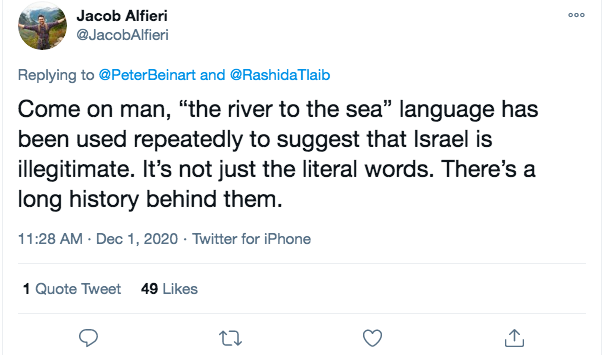 Beinart and Tlaib are scheduled to speak in a panel discussion called "Dismantling Anti-Semitism, Winning Justice," on Dec. 15.
The other two panelists are Barbara Ransby, a University of Chicago professor and Temple University professor Marc Lamont Hill, who was fired as a CNN commentator in 2018 after saying "from the river to the sea" during a United Nations speech on Palestinian rights.
Tlaib has been accused of anti-Semitism on multiple occasions, most recently last month when she tweeted, "So long as he doesn't suppress my First Amendment right to speak out against Netanyahu's racist and inhumane policies. The Palestinian people deserve equality and justice," in response to President-elect Biden's nominee for Secretary of State, who is Jewish.
In January, Tlaib retweeted a tweet falsely accusing Israelis of kidnapping, assaulting and throwing an eight-year-old Palestinian child into a well. In actuality, Israeli first responders found him drowning in a reservoir and tried to revive him.
In 2019, Tlaib described the "calm feeling" she experienced when thinking about the Holocaust. After receiving backlash, she responded by saying critics were "twisting" her words.
Tlaib's history of anti-Semitic rhetoric has shown hatred and bigotry against the Jewish people. Many believe that the suffering and racism towards Jews will not end if the public continues giving people like Tlaib a platform.